Swimming Pool Plastering & Repairs in Greater New Orleans Area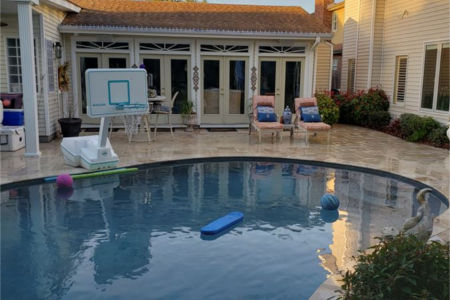 Mudbug Pavers & Construction offers quality pool plastering and other swimming pool renovations in the Greater New Orleans area. If your swimming pool plaster has become unsightly or dangerous, we're the Louisiana plastering experts to call.
Plaster cracks can sometimes mean there are concrete cracks underneath. It's important to get an experienced plaster repair contractor to assess the damage and restore the surface soon to prevent further problems with your swimming pool.
Whether it's just plastering or a more extensive restoration you need, our local plaster repair contractors can resolve your swimming pool problems for you. Let's get started with a free estimate!
Our Greater New Orleans Pool Plastering Services
Pool Replastering
Pool Plaster Repair
Pool Plaster Restoration
Swimming Pool Repair
Plaster Delamination Repair
Pool Surface Repair
Plaster Crack Repair
Pool Plaster Patching
Why Greater New Orleans Should Choose Us For Pool Plastering
Since we began in the Hammond area, Mudbug Pavers & Construction has been helping home and business owners to create beautiful outdoor living spaces. Our team consists of various craftsmen who are specialists in their field from masonry experts who repair tile and coping to plastering contractors with years of industry experience. Your swimming pool plaster repairs will be handled correctly and quickly!