Patios in Greater New Orleans Area, Louisiana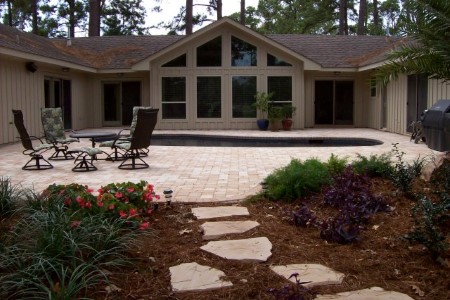 Custom patios in Louisiana add beauty and function to your outdoor areas. Our natural stone and paver patios come in an endless array of colors and dimensions. There are so many different ways to build a patio depending on the desired appearance and function.
Our professionals at Mudbug Pavers & Construction can design and install a natural stone patio just for you. With over 1000 projects involving patios designed out of natural stone and pavers, we have the eye for a beautiful custom design, and can assist you in selecting the best materials for your project based on texture, color, and style.
Let our construction professionals design and build a custom patio today to enhance the appearance your Hammond home and raise your Louisiana property value as well.
Our Greater New Orleans Area Patio Services
Ponchatoula Natural Stone Patios
Travertine Paver Patios
Flagstone Patios
Stamped Concrete Patios
Limestone
Sandstone
Louisiana Travertine
Paving Stones
Stone Veneer
Stone Tile
Hammond Stone Wall
Patio Stone
Why Louisiana Should Hire Us For Patios
Mudbug Pavers & Construction provides our Louisiana clients with personalized attention and care when it comes to your patio construction project. Our Hammond paving contractors will take the time to understand what you want, and the desired look you want for your patio, driveway, walkway, or whatever project you envision.
We only use the best craftsmanship and the highest quality paver stones for your Tangipahoa Parish home. Our patio experts also take the time to go over the various natural stone options available to you to make sure that you receive a stylish and durable installation that will provide years of enjoyment.
Latest Projects