Pool Deck Repairs in Greater New Orleans Area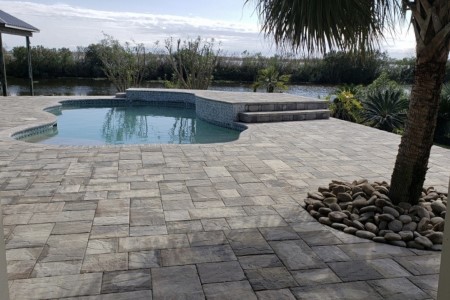 The pool deck surrounding your swimming pool can be professionally repaired and restored to offer you a long-term solution. If you're looking for a pool deck repair contractor in the Greater New Orleans area, Mudbug Pavers & Construction is the name to depend on.
Pool deck repairs should be on the agenda if there's cracked or broken concrete or broken coping tiles to ensure you and your Louisiana family can enjoy a safe and beautiful swimming pool.
If it's time to do something about the loose tiles, pool deck cracks, missing stone, or broken concrete edges, don't hesitate to call Mudbug Pavers & Construction in Hammond for pool deck repairs! We offer free quotes and consultations and will work with you to reach your goals!
Tile & Coping Repairs For Pools
Pool deck repairs and tile & coping repairs are often needed as a pool ages. When the coping and tile age, water can escape where it shouldn't and wreak havoc on your landscape.
The coping of your swimming pool is the cap sitting above the tile line and attached to the pool deck. It's around a foot in width and is situated on top of the bond beam to cover and separate the pool from the decking. Coping can be made of concrete, bull-nose brick, natural stone, or stone paver tiles.
Let our professionals assess the tile & coping repairs necessary to restore your swimming pool. We can tell you exactly what needs to be done and offer you a free estimate for the work.
Why Greater New Orleans Should Choose Us for Pool Deck & Coping Repairs
As a local Hammond paving company, we have the experience and dedication to offer quality pool deck repairs as well as complete pool renovations when you need service. Offering our customers the long-term solutions they need rather than quick fixes to their swimming pool problems is always our priority.
Give us a call to set up a consultation. We'll take great care of you and your pool for as long as you own it!