Custom Pool Decks in Greater New Orleans Area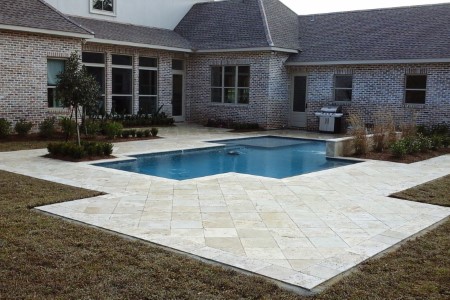 Pool decks in Hammond come in a large variety of textures, styles and color variations. This type of deck has a long lasting durability and is perfect for all different types of weather conditions.
When choosing your Kentwood pool decking materials, you should understand that natural stone is one of the only materials which actually improves over time. Stone work can last forever.
Over the years, the stone can form its own distinct pattern and character which can only be found in patios and other hardscapes constructed of natural stone. This type of material can be easily maintained and is extremely stylish compared to any other type of decking surface.
When you want to enhance your St. Tammany Parish area home with pavers or a natural stone pool deck, we're the local experts to call.
Call on the Louisiana professionals at Mudbug Pavers & Construction to design and build the perfect hardscaping for the swimming pool decks for your home.
Our Greater New Orleans Area Pool Deck Services
Pool Decks
Stone Pool Decks
Build Stone Patio
Stone Patio & Pool Deck Design
Kentwood Stone Patios
Stone Patio
Patio Design
Landscape Design
Natural Stone
Stamped Concrete Pool Decks
Stone Veneer Pool Decks
Paver Pool Decks
Why Louisiana Should Hire Us For Patios
Now you can customize your Louisiana landscaping and outdoor spaces near your swimming pool with our custom pool decks. The professional paving contractors we employ are highly trained in design techniques and construction.
Whether you want a custom stone pool surround or a paving addition, we can design and build it to fit your specifications. Our paving additions are a great way to add style and improve your Louisiana property.
Mudbug Pavers and Construction is committed to giving our customers the best service, products and installation in Louisiana at competitive prices. All of our estimates are free!