Outdoor Fireplaces in Greater New Orleans Area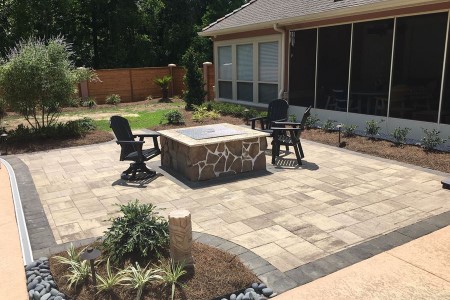 Mudbug Pavers & Construction is the leading Greater New Orleans area specialist in outdoor fireplaces. Our luxury outdoor fireplaces can be custom designed and built to serve your functional and aesthetic needs.
If you and your family enjoy entertaining or spending time outside and would welcome some ambiance and warmth on cool evenings, one of our custom outdoor fireplaces may be just what you need.
Nothing sets off a beautiful, cool evening here in the Hammond area like an outdoor fireplace. Outdoor fireplaces make a beautiful addition to any outdoor living space. If you'd like to incorporate a custom fireplace into your own back yard, let our professionals design one for you.
We offer free estimates, no matter what type of project you are in need of. Our professional Hammond paving contractors will provide you with options and services that will improve your home. If you want to add a custom stone fireplace to your Louisiana landscape or home, we can design and customize it to your desired look!
Why Greater New Orleans Area Should Choose Us for Outdoor Fireplaces
There are so many different ways we can design and build outdoor fireplaces but we'll help you choose the right natural stone or pavers to go with the style of your home and the existing outdoor spaces.
Let our professionals go over all the different ideas you have for a backyard fireplace in the Hammond area. Also, if there are any other enhancements you'd like to make to your outdoor living spaces, we can assist you with these too.
From the large Terra Cotta fire pits and simple outdoor pot belly fireplace to the luxury stone and brick fireplaces with pizza ovens, there's a world of options available with Mudbug Pavers & Construction! Let's talk about some design ideas today!