Custom Pergolas & Gazebos in Greater New Orleans Area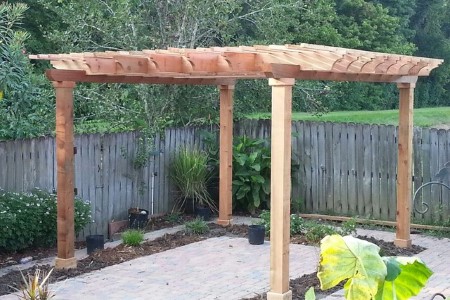 As Greater New Orleans Area leading designer of custom pergolas and gazebos, Mudbug Pavers & Construction can offer the custom size and shape you want to enhance your outdoor living areas. Our open and elegant designs offer the perfect place to let in the breeze and enjoy a beautiful outdoor area with family and friends.
We offer a wide range of designs in pergolas and gazebos which give us the ability to meet your budget and aesthetic needs. Whether it's for your home or business, Mudbug Pavers & Construction is your go-to source for beautiful pergolas and gazebos in Hammond and the surrounding areas.
Custom Pergolas
Pergolas add so much to a landscape. They offer functional shelter that still lets the air and sun in but protects the area in a beautiful and sophisticated way. They're the perfect enhancement for a garden area, entryway to the yard, or just for a nice place to sit and enjoy the sunrise. If you're looking for custom designed pergolas in New Orleans, our craftsmen can offer a wide array of designs.
Custom Gazebos
Gazebos are fully roofed but provide an open view of the surrounding area. Our custom gazebos will grace any property in the Lafayette area. No matter where you live here in the Greater New Orleans area, this structure can give you the southern charm and function you want for your yard. We custom build gazebos of all sizes and would be happy to help you create the design and choose the materials.
Why Greater New Orleans Area Should Choose Us for Pergolas & Gazebos
Once you decide you want a pergola or gazebo, you'll have some exciting choices to make. Mudbug is here to make sure the process is as fun and exciting as possible. We can help you select the materials and create the design which perfectly enhances your home, landscape, and lifestyle. We offer free estimates and consultations with all of our services. Just give us a call to schedule your appointment!
Latest Projects